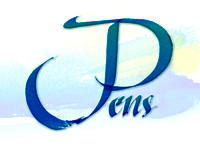 I am motivated to use meaningful texts from the Bible and other sources to "make thoughts visible", beautiful and expressive. Each piece brings exploration, inspiration and discovery — on a concrete level as I work with my tools and experience; on a spiritual level as a passionate heart treasures God's presence, my relationship with others and ... listens ... for God's still, small, gentle voice within the cacophony of the ups and downs, joys and sorrows experienced. In this relationship God comes transforming, with hope-full and wonderful surprises!


As a lettering artist, I appreciate the vision and values expressed by Friedrich Neugebauer:
This is my vision of a studio for lettering and book design: it is a place where simple elemental shapes are joined together in precise harmony and soon awaken as meaningful communication - all in an atmosphere of warmth and wonder…
The lettering artist reaches a decision to give himself over to those values which confirm his nature and strengthen his belief and knowledge. This commitment stirs and challenges his entire being. The artist uses the architectural quality and order of letters and layout to express ideas with power and feeling.
The texture and form of the printed words grow out of the inner meaning of the text and create a special statement—
As the custodians of our oral traditions, it is essential that we all choose and create texts that have real meaning for us, so that people reading the words at a later time will sense the emotional solidity and truth in what they read.
Quotes on letters and lettering:
Contained in every bottle of ink is at least one good letter, and it's at the bottom! Peter Thornton
The qualities of letterforms at their best are order, simplicity and grace. William A. Dwiggins
Letters act as practical and useful signs but also as pure form and inner melody. Wassily Kandinsky
Writing is performed by movements: it is a dance of the pen. Alfred Fairbanks
Whence did the wondrous mystic art arise, of painting speech and speaking to the eyes? That we, by tracing magic lines, are taught how to embody and to colour thoughts. William Massey