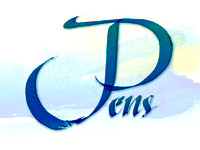 Welcome to PENSCRIPTIONS
WHO • Judy Dodds, owner and artist
WHAT WE DO • expressive images of hand-lettered calligraphy using traditional and contemporary tools and materials
WHAT WE OFFER • commission work ~~ for your one-of-a-kind special projects or events
• websites ~~ view and purchase products
• products ~~ prints, matted and framed, canvas wraps, greeting cards, tempered glass trivets
WHY • Since elementary school, I have loved working with letters and color. I live day by day inspired, trusting and seeing God's faithfulness, grace and mercy. I process issues and concepts of life and faith with words, lettering pens, ink, watercolor, acrylics and papers. Creating these "thoughts made visible" reminds me my life is a creative process; rough, imperfect. God, my Creator, Master Artist, creator of all, lavishly gives His Word & inspiration, His saving grace & His redeeming love.
WHEN • I began Penscriptions in 1984.
I hope you find here some inspiration for your life, new insight into God's truths and words to encourage and bless those so special to you.
Thank you for stopping by,
Judy