Giving good gifts — pair one of my hand-made cards with your home-made bread for the perfect hostess or teacher gift.
Surprise a friend with this package on a birthday or a "thinking-of-you-especially-today" kind of day!
Tonight I will bring a pumpkin loaf, the berry butter and the Footprints On Our Hearts card as a hostess gift.
Here's my DIY Pumpkin Bread with Berry Butter recipe.
With Fall in full swing and Thanksgiving just a few weeks away, what could be yummier ... and easier ... on a cool day than fresh-baked pumpkin bread spread with tasty Berry Butter!
Super moist and flavor packed, this pumpkin bread is delicious. Just took two fragrant loaves out of the oven.
Today my loaves were plain, but they can be enhanced with chocolate chips, nuts, cinnamon chips, cranberries, ginger or ...
Ingredients for Berry Butter
• 2 tablespoons dried craisins
• 1/2 cup hot water
• 3 tablespoons powdered sugar
• 1/2 cup butter, room temperature
Ingredients for 2 loaves of Pumpkin Bread
• 1 cup oil (I like using coconut oil or half coconut and half softened butter)
• 2 cups sugar
• 4 large eggs
• 15 oz canned pumpkin
• 2/3 cup water
• 3 1/2 cups flour
• 1/2 teaspoon baking powder
• 2 teaspoons baking soda
• 1 1/2 teaspoons salt
• 2 teaspoons pumpkin pie spice (I used Penzy's)
Directions for Berry Butter
1. Soak craisins in the hot water for 5 minutes; drain and chop.
2. In small mixing bowl, mix chopped craisins, powdered sugar and butter.
3. Enjoy this deliciousness on slices of your warm pumpkin bread
Directions for Pumpkin Bread
1. Preheat oven to 350ºF. Lightly grease and flour two 9" x 5" loaf pans.
2. In large mixing bowl, beat together oil and sugar, then eggs, pumpkin and water. I like to measure the coconut oil by putting my mixing bowl directly on my kitchen scale. Make sure you are starting with zero and the unit is in ounces; then spoon 7 ounces of coconut oil into your bowl. Move the bowl back to your mixer stand and continue.
3. Using a small bowl, measure the flour on your kitchen scale. Notice the Nutritional Information on your flour bag. Mine says 1/4 cup equals 30g. So I need 420g of flour. Add and mix the baking powder, baking soda, salt and pumpkin spice. Pour all into the wet batter and mix.
4. Now add the extras - chips, berries, nuts - if you are using them.
5. Spoon the batter into the prepared pans
6. Bake at 350º, 60 minutes or until a cake tester or long skewer inserted into the enter of the loaf comes out clean.
7. When done, move pans to cool for 5 minutes on cooling rack. Then, remove bread from pan and let it continue to cool.
I couldn't wait for the loaf to cool - the cranberry butter is melting in. Yum!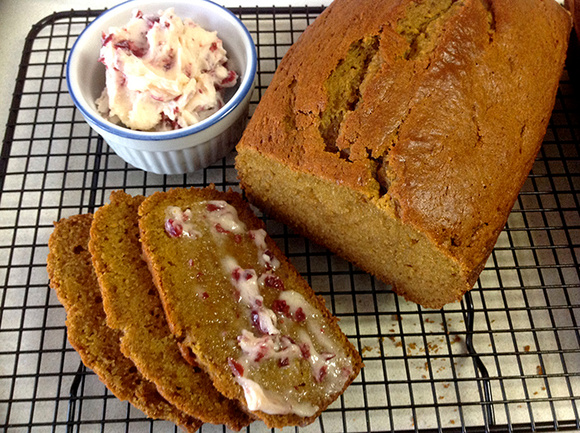 8. When completely cool, wrap the loaves in parchment paper to store until serving.
Tied with harvest gold ribbon and topped with this card and a note inside, accompanied by a little crock of berry butter, this loaf is ready for gifting!
• Title • Footprints On Our Hearts

• Text • Some people come into our lives and quietly go. Others stay a while and leave footprints on our hearts and we are never the same.
• Description • 5x7 card with envelope • can be ordered as single card or in packs of 10 or 25
You can purchase this card from Penscriptions Calligraphy - Fine Art Prints
• click here
• Title • Bread

• Text • Be gentle when you touch bread. Let it not be uncared for, taken for granted or unwanted. There is such beauty in Bread. Beauty of sun and soil, beauty of patient toil. Winds and rains caress it. Christ often blessed it.
• Description • 5x7 card with envelope • can be ordered as single card or in packs of 10 or 25
You can purchase this card from Penscriptions Calligraphy - Fine Art Prints
• click here
Enjoy making this wonderful quick bread for your family and friends.
Enjoy sending these thoughtful cards.
Judy Dodds
PENSCRIPTIONS Calligraphy
http://pens.zenfolio.com
• VIEW my collection plus one-of-a-kind commission work
• ORDER fine art giclée prints • framing • canvas wraps • greeting cards
• printed by Mpix & Penscriptions
See a related site • Art-Spired, a collection of work and blogs by artists about art