With the arrival of cold winter days, I love to warm up our kitchen with baking. One of the best ways my mother loved her family was cooking, baking and serving her well-rounded meals.
Inspired by her outlook on life and guided by her basic recipe, here is "Mom's Banana Bread" with the addition of a couple surprise ingredients and an "upscale" technique.
Mom's Banana Bread yield - 1 loaf
Preheat oven to 350ºF. Lightly grease and flour 9"x5" loaf pan
INGREDIENTS
• 1/2 cup or 4 oz. butter softened or 1/2 cup coconut oil : )
• 3/4 cup brown sugar
• 2 large eggs (room temperature)
• 3 ripe, mashed bananas (about 1 2/3 cups)
• 1 3/4 cup flour (about 210g)
• 1 teaspoon soda
• 1/2 teaspoon salt
• 6 tablespoons buttermilk (3 oz)
• 1/2 cup chocolate chips
Bake in prepared 9" x 5" pan at 350º for 50-60 minutes
Carefully remove from oven. Insert cake tester or long skewer into center of bread. It should come out clean. If there is any uncooked batter on the tester, bake bread an additional 5 minutes, or until it tests done.
Cool on rack in the pan for 10 minutes. Remove from the pan and finish cooling on the rack.
Yield: one loaf
DIRECTIONS
1. Put your butter - or coconut oil - in your mixing bowl.
I love using my kitchen scale to measure weight of dry or wet ingredients.
Coconut oil has been getting some healthy press, so I have been using that in place of butter
Here's a quick "how-to" of this "upscale" technique using the convenience of a digital scale.
1. place your mixing bowl directly on the scale.
2. make sure it shows zero.
3. put spoonfuls of coconut oil right in your mixing bowl until you get 4 ounces or the same weight as 1/2 cup of butter. (King Arthur flour was my inspiration here. They list their recipe ingredients by volume or weight.)
4. place your mixing bowl back on its stand, unless you are measuring another ingredient.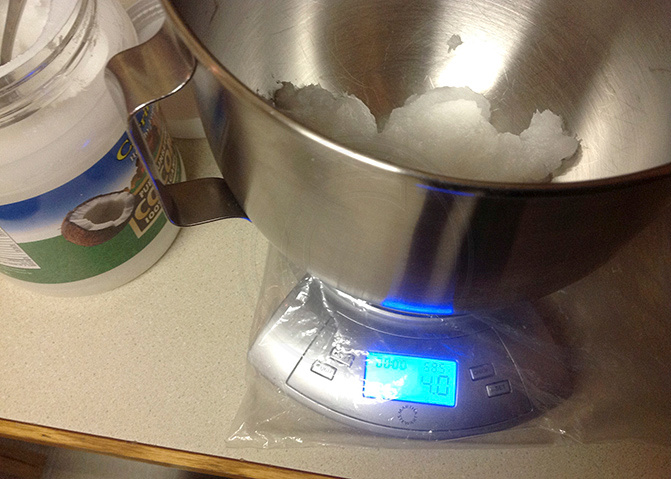 2. Measure the 3/4 cup brown sugar by volume, add to the bowl and blend well.
3. Add in the room temperature eggs and mashed bananas and mix well.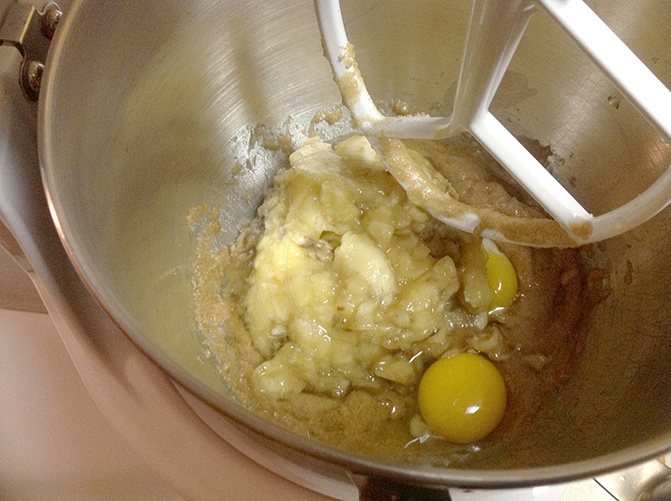 4. Mix flour, soda and salt in a small bowl. Add all to the wet ingredients in the mixing bowl.
I come back to the scale for measuring the flour. This flour was 30g for 1/4 cup. So, 30g x 4 = 120grams for 1 cup plus 90g for 3/4 cup for a total of 210g flour. (The weight of 1/4 cup flour varies by the type of flour, so always check nutrition facts on your bag. for the grams per 1/4 cup.)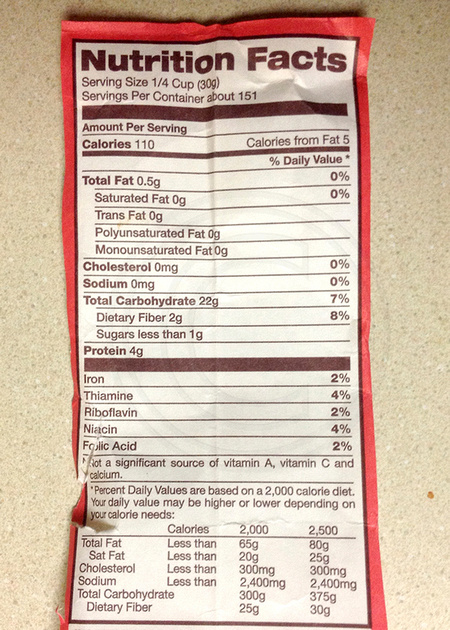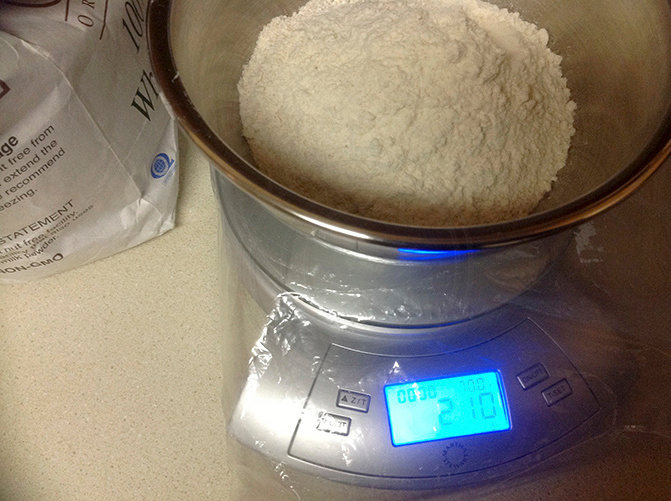 5. Add 6 tablespoons buttermilk (2 TB = 1 ounce, so 3 ounces total)
6. Now the second surprise ingredient ... stir 1/2 cup chocolate chips in to the batter.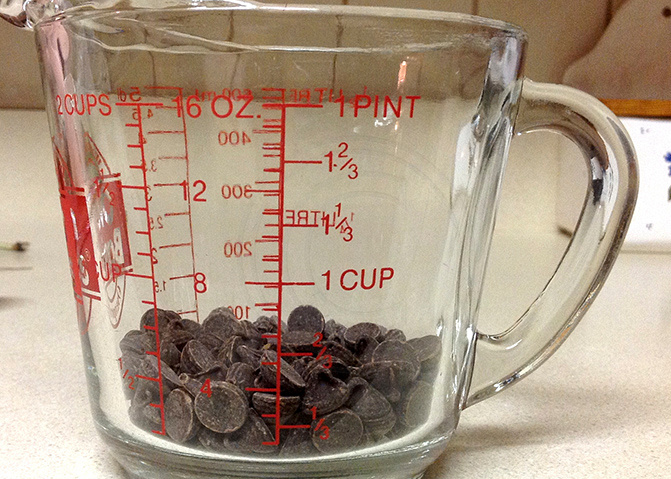 7. pour batter into greased and floured pan
8. Bake at 350º for 50 - 60 minutes.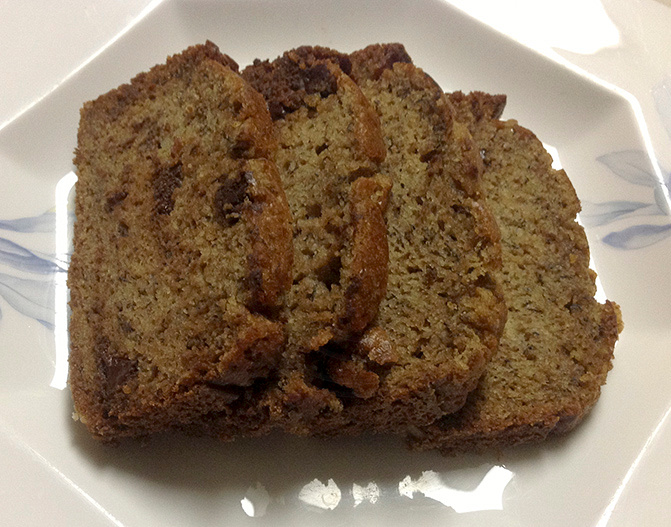 ENJOY the cooled bread sliced and buttered.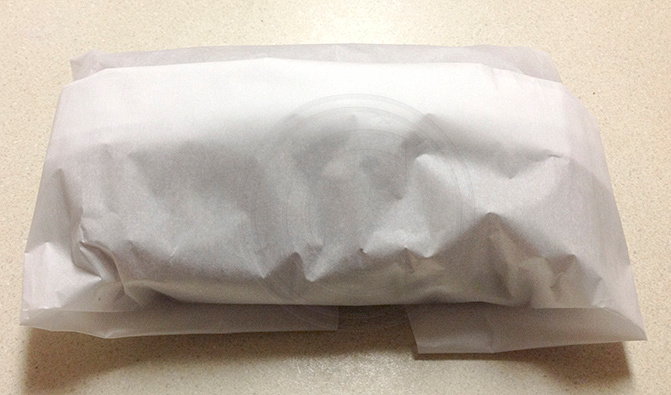 Well, I'm off with this fresh parchment-wrapped loaf - to welcome our new neighbors.
Enjoy filling your kitchen with the delicious aroma of fresh-baked banana bread.