What can be expected in 2015?
What do I need to remember to remember?
What does The Marshmallow Test have to do with me?
What do I hope for your 2015 year?
Looking back on 2014 - I remember joy & satisfaction as well as regret & disappointment.
Looking forward to 2015 - I have joy, eagerness & confidence mixed with some apprehension & doubt.
As this NEW YEAR REVEALS ITSELF, what can I expect? similar actions and feelings to last year? forgetting stuff? selfish and willful actions? bungled situations? This stuff and others will happen. I will fall - get bruised by my own choices, be disappointed in unrealized goals, feel crushed by a heavy load, experience loss and aloneness, wander without directions etc. etc.
However, during, simultaneously, in the midst of all that … I need to REMEMBER TO REMEMBER God is all about love. God is Love. I (we all) live in his mercy and grace. He loves in spite of what I do. He has given his all to get my attention and reveal his love. I will love him back very imperfectly and forget to remember his love, his amazing grace. Yet my desire is to THANK God in EVERY MOMENT for all he is, for all I am in him and all he is to me.
Remember falling in love? You thought about that person all the time. You wanted to be in their presence as much as possible. You wanted to talk over everything. As the relationship grew, you grew in trust and confidence of that person.
We know, oh, so well, that people fall out of love. When things go south, they bail. They demand too much, don't love back anymore, disappoint you, betray you, give up on you.
God is not like this at all. I will disappoint, betray, turn away from him. It is his nature to love. God is Love.
It is God's nature
to want only good things for our future and
Future Hope II, Jeremiah 29:11-13
… not want us to fall or stumble.
It is God's nature
to abundantly supply his grace, mercy and precious love.
It is God's nature
to always be near, never leave or abandon.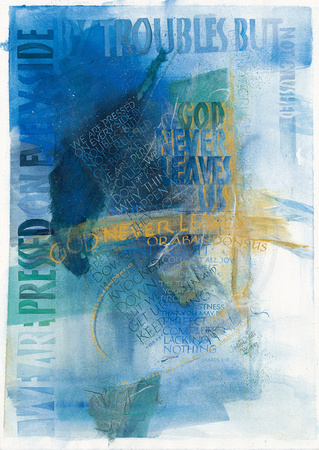 God Never Leaves Us, II Corinthians 4:8-9, James 1:2-4
It is God's nature
to listen. He can handle way more than my biggest problems.
It is God's nature
to supply and equip far more abundantly than I can ask or think.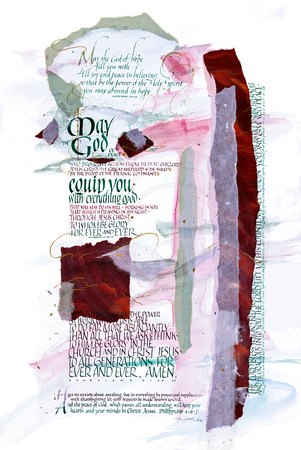 God of HopeGod of Hope, Romans 15:13, Hebrews 13: 20-21, Ephesians 3:20-21, Philippians 4:6-7, Numbers 6:2
It is God's nature
to be a light in the darkness. Putting my hand into his
is better than light and safer than a known way.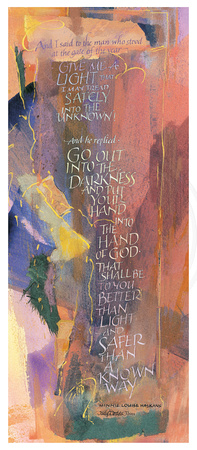 Hand of God This text was used by King Edward of England in his 1939 Christmas broadcast to his people as WW II was spreading across Europe.
I WILL LEAD THE BLIND
BY A ROAD THEY DO NOT KNOW,
BY PATHS THEY HAVE NOT KNOWN
I WILL GUIDE THEM.
I WILL TURN THE DARKNESS BEFORE THEM INTO LIGHT,
THE ROUGH PLACES INTO LEVEL GROUND.
THESE ARE THE THINGS I WILL DO, &
I WILL NOT FORSAKE THEM.
ISAIAH 42:16B
Life is a series of choices. What choices will I make this year? Will they move me toward success or failure? toward falling or getting up again? into or away from more trusting relationships? toward accomplishing short term or long term goals? toward instant or delayed gratification?
A recent PBS News Hour referred to The Marshmallow Test. Click HERE to get the episode. Then move ahead to the 21:30 minute mark. Walter Mischel researched brain development. A person was offered a marshmallow or another object and told they could have it now or wait 15 minutes and have a second one. Revealing the way choices were made, his conclusions included that 5-6 year olds had ability to inhibit impulses, to delay gratification, to keep a goal in mind, to shift attention in extraordinary ways. Click HERE to see the Charlie Rose interview. Click HERE to view The Atlantic Article. Click HERE to see Walter Mischel's 4/9/14 lecture at the U of Michigan - 3:15 for the introduction; 5:25 for his lecture. There are so many application for these insights in all areas of living. I ask myself ... Am I willing to delay doing something in order to have something more satisfying and more valuable at some future time?
The path ahead is unknown, but we have some tools to help us navigate. It is interesting and fun to apply the lessons learned from Walter Mischel's studies to reach for goals. We can't always choose our circumstances, but we can choose our response to them. Some choices I am making are to practice gratitude, live joyfully, focus on the important, enjoy the present, exercise, be teachable, trust Jesus, thank God for all he is 'n all I am in him, not skimp on time spent in God's Word.
SEEK THE LORD &
HIS STRENGTH; seek
HIS PRESENCE
CONTINUALLY!
PSALM 105:4
May your 2015 be blessed with joy, gratitude and choices to make this your best year yet!
Thanks for visiting my blog.
__________ __________ __________ __________
This blog was also published in my Pens E-News. Click to view.
Advent 2014 thoughts published in my newsletter, Pens E-News, can be read:
Click the underlined words to view.
Advent 1 - HOPE
Advent 2 - LOVE
Advent 3 - JOY
Advent 4 - PEACE
&
Merry Christmas - Joy to the world