As I journey through this Lenten season I have been reflecting on gratefulness for Jesus.
… so grateful for … what I, we, the whole world have in … Jesus.
These few weeks of focus on Jesus, have enriched my Lenten journey and resulted in this new piece, O, what a Savior.

I have loved you with an everlasting love; therefore I have drawn you with lovingkindness (NAS). I have continued my faithfulness to you (ESV). Jeremiah 31:3
Come see the cross where love and mercy meet.
O how marvelous! O how wonderful! Is my Savior's love for me!

But God, being rich in mercy, because of the great love with which he loved us, even when we were dead in our trespasses made us alive together with Christ - by grace you have been saved. Ephesians 2:4-6
... but God shows his love for us in that while we were still sinners, Christ died for us. Romans 5:8
In Christ Jesus there is no separation from this Mercy and Love of God.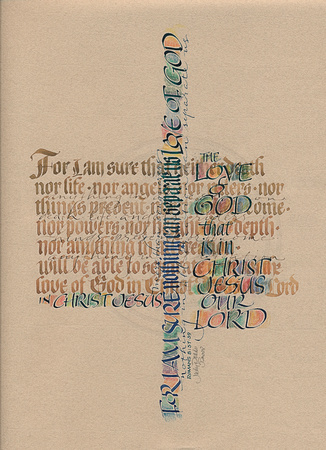 Mercy and forgiveness must be free and unmerited to the wrongdoer. If the wrongdoer has to do something to merit it, then it isn't mercy, but forgiveness always comes at a cost to the one granting the forgiveness. The Prodigal God, Timothy Keller, p. 93-94

During his ministry he wandered, settling nowhere, and said: "Foxes have holes, and birds have nests, but the Son of Man has nowhere to lay his head.(Matthew 8:20). He remained completely outside the social networks of political and economic power. He did not even seek academic or religious credentials. The Prodigal God, Timothy Keller, p. 113
Obedient to his Father... he was betrayed and denied, arrested, mocked, rejected, crucified ... in my place, for my sake.
He was merciful … forgiving … innocent.

... And as he died he said, "My God, my God, why have you forsaken me?: (Matthew 27:46), a tremendous cry of spiritual dereliction and homelessness. The Prodigal God, Timothy Keller, p. 113

What had happened? Jesus had not come to simply deliver one nation from political oppression, but to save all of us from sin, evil and death itself. He came to bring the human race Home. Therefore, he did not come in strength but in weakness. He came and experienced the exile that we deserve. He was expelled from the presence of the Father, he was thrust into the darkness, the uttermost despair of spiritual alienation — in our place. He took upon himself the full curse of human rebellion, cosmic homelessness, so that we could be welcomed into our true home. The Prodigal God, Timothy Keller p. 113-114


the lyrics and the song.

The stone is rolled away. The tomb is empty. He is Risen!
He talks and walks with others and with the disciples.
Because Jesus lives, we can face tomorrow with all the uncertainty it brings. (the song)
Lay down … your tears, struggles, hurts, pain, frustrations, losses, discouragement, failures, regrets to Jesus … at the cross.
Trust him with all this stuff and more.
Give him your self just as you are.
Let him wrap you in his love and mercy. He knows your pain and anguish.
His grace and love will bring relief to your spirit, newness to your life.
With the eyes of your heart you will know him as your Savior and Redeemer.
O, what a Savior! Alleluia!