When a calligrapher is asked to design an Easter banner and include a cross, of course, one has to use letters and text to develop the design!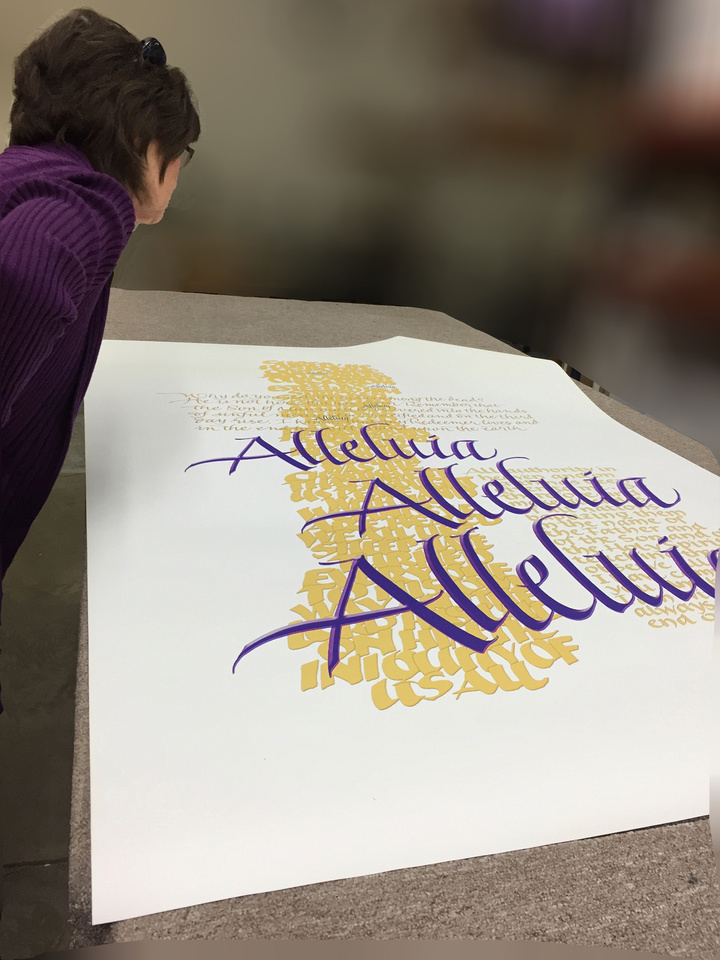 As I began planning, I decided to reference both the Old and New Testaments to show how this message from God to us over the centuries is so wonderfully knit together.
The Alleluias, seven of them, would be the foreground and focus of the banner. The next step was research - gathering verses to list under the additional design elements - the vertical of the cross, the horizontal of the cross and a text to use across the bottom or in the lower right.
The vertical of the cross became Isaiah 53:4-6. It was build of strong, sturdy, heavy letters, because of the great sin burden Christ carried. the anguish he suffered to bring us peace, healing, forgiveness and redemption. The bunched, packed letters spoke to me of Christ, our strength, our Rock; his determination and faithfulness to his Father in carrying out His will.
Close-up of Isaiah 53:4a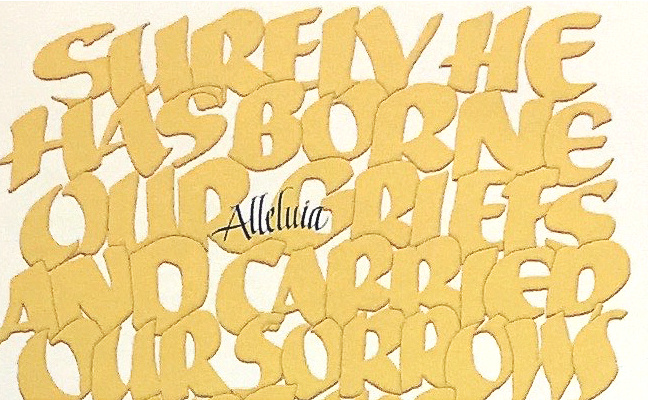 The horizontal arm of the cross is two texts. Luke 24:5-7 is Easter morning when Mary Magdalene and other women were looking for Jesus. Job 19:25 is back to the Old Testament with Job's declaration of his Redeemer's victory.
Close-up of Luke 24:5-7 and Job 19:25

The lower right section, Matthew 28:18-20, is The Great Commission. The disciples had just witnessed so many amazing and wonderful things. Jesus told them to go and tell others the wonderful things they knew.
Close-up of All authority ... Matthew 28:18-20
All the lettering was done by hand then scanned at high resolution so the design could be built in digital format. The five design elements - 1. the vertical section of the cross 2. the horizontal section of the cross 3. the lower right text 4. the Alleluias 5. the background - can be managed and arranged individually.
This work is available as it is presented on my website or it may be customized. Your specific preferences for a variation in arrangement of the layers, colors, size of text and final printed size can be tailored for the particular space in your church, office, school or home.
Through the study of these verses, I have grown in my love of Christ, have a greater awe of his saving work on the cross and have such a joy in my heart. Easter will be a wonderful worship of my risen Savior. Alleluia! Alleluia! Alleluia!